Testimonial from Dave Llewellyn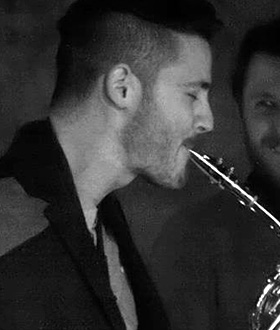 I have been playing refaced vintage Selmer soloists for the past seven years on both alto and tenor, and love the sound and response. During that time, I've tried many other mouthpieces just to satisfy my curiosity, but have never found a mouthpiece that I liked anywhere near as much. The only complaint I had of my mouthpieces was that my tenor soloist in particular seemed to fight back when I tried to push it too hard. Trying Aizen's soloist mouthpieces, I have to say that I really was amazed at the playability. Not really expecting to find a mouthpiece I liked as much as my Selmers, I have found that I could get the same tonal characteristics from the Aizen's, but so much more free blowing. I can push the mouthpieces as far as I want to without anything feeling constricted. I really think that I've found the perfect mouthpiece for me.



Biography

Dave Llewellyn is a Brisbane born multi-instrumentalist performer, composer and educator. He has studied with some of Australia's leading jazz musicians and educators, and has a Bachelor of Music (jazz saxophone) and Masters of Music (jazz saxophone) from the Queensland Conservatorium of Music. He composed for the 2005 Kawai Masters Keyboard Concert series, which was performed and recorded, and in 2007, he received the Griffith Award for Academic Excellence.

He has performed with artists including Guy Sebastian, Paul Kelly, Tom Burlinson, Paulini, Harry Angus (Cat Empire) and Wally De Backer (Gotye) to name a few.

Now in Melbourne, he is working as a session musician, performer, arranger, and music director for his church. He plays baritone, tenor, alto saxophones, keyboard and drums for different musical acts.

His own group focuses on straight-ahead jazz standards, with a flexible lineup and a well rounded repertoire covering everything from ballads to bossas to bebop.