The traditional Japanese storehouse is called a kura. Here, the temperature and humidity are constant. That's why, at Aizen, we refurbished a traditional kura storehouse as the home for our workshop. And that's where we make our mouthpieces.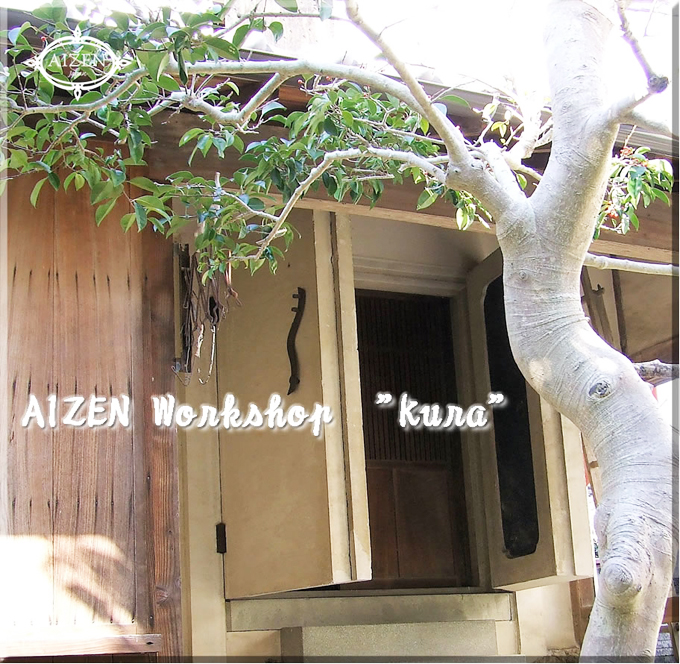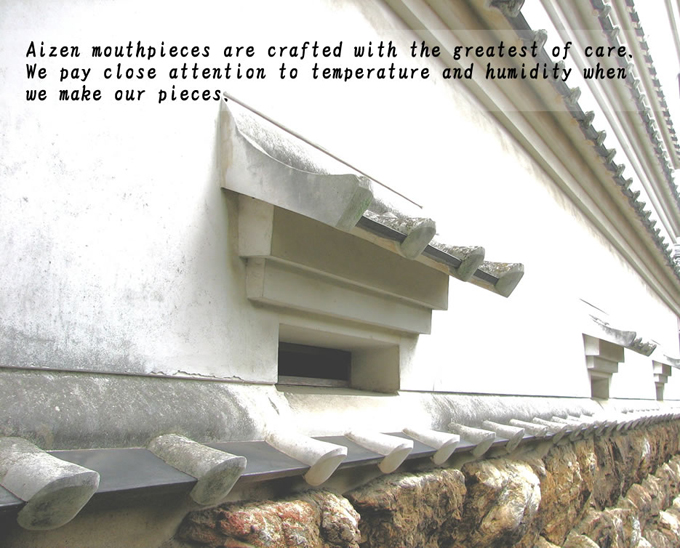 Three things we stand by
Uncompromising Quality Control

Every Aizen saxophone is handmade with the greatest care by experienced craft workers. Every piece is rigorously checked for quality every step of the way.

Never-Ending Refinement of Sound and Playability

At Aizen, we've researched a huge range of other saxophones. This has allowed us to recreate the 1940-50s sound and bring you today's playability at the same time. And still we keep on researching…

Exquisite Handcrafted Carving

For the final glorious touch, Aizen saxophones are hand-carved by a master craftsman At Aizen, we think a good sax should look as well as sound beautiful beautiful enough to captivate any audience.
Inside story of mouthpiece development
At Aizen, we think the ideal saxophone mouthpiece should have the following features.
It re-creates the sound of a 50s-60s vintage mouthpiece.
It's easy and fun to use.
Anyone from beginners to pros can use it.
There is accuracy in product quality.
It has artistic value as an object in itself.
It comes in a price range affordable to a broad range of consumers.
We set out on our product development process with these aims in mind. But from there, the path to the perfect Aizen Mouthpiece was by no means all plain sailing.
Product sampling
Our next step was researching, collecting and testing a whole lot of vintage sax mouthpieces. We picked the cream of the crop from our experience of more than 2,000 different models. We used a wide range of methods to test the best thoroughly – but frankly, we found that most of them had drawbacks of one kind or another. We weren't fully satisfied with any single model.
And then, finally – after exhausting much time and treasure – we found The One. We took it apart. We put it back together. We scrutinized it to the limits, and then we got to work. The result we reached is the Aizen Sax Mouthpiece. But we were still a long way off…
Materials:a tale of trial and error
Materials are the most important factor directly affecting tone quality and timbre. We tried to re-create the Fifties sound using one combination of materials after another, and every time we failed. We found ourselves tempted to give it all up more than once. Getting the timbre right, keeping the mouthpiece easy to control and use, maintaining accuracy of form through the production process – the hurdles we faced were high and plentiful. One by one, we jumped them. We finally found the ideal combination of materials that satisfied all of our requirements.
Maintaining a consistent product
Here's an unfortunate fact: whatever the model, mass-produced mouthpieces rarely achieve consistent product quality. There are lots of contributing factors – inexperienced quality control staff in production plants is one. Even more pernicious is the way that pumping out product at maximum possible quantities leaves less leeway for meticulous, piece-by-piece checking. As a result, the market is flooded with uneven product, leaving consumers confused and unable to choose the optimal mouthpiece.
With Aizen's thoroughly researched combination of materials and skilled production process, product inconsistencies at the manufacturing stage are kept to an absolute minimum. Before shipping, Aizen Mouthpieces are individually hand-checked and adjusted by thoroughly trained quality control staff. Our customers can rest completely assured of the quality of Aizen products.
Luxurious craftsmanship
A well-made saxophone is a luxuriously crafted instrument. In just the same way, we at Aizen believe that the mouthpiece should also be a feast for the eyes. Musicians using Aizen mouthpieces will be best satisfied with a perfect balance of beauty and usability.
Getting the balance right gave us big problems – until one day, we came across a craftsperson with the exceptional skills required to do the job to Aizen standards. He has the ability to hand-carve patterns on our mouthpieces with perfect accuracy. Thanks to his long-matured talents, every Aizen mouthpiece comes extensively hand-carved – and with level of finish and luxury unprecedented in mouthpiece manufacture.
We pursue highest quality
Why every AIZEN mouthpiece is a handmade work of art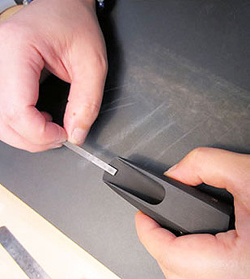 At Aizen, every step of the manufacturing process is carried out by hand.
A mouthpiece is such a delicate instrument that the slightest misbalance or misalignment can block the airflow or distort the sound. Some people say that machine processing gives you a consistent product. But at Aizen, we think that no machine, however advanced, will ever match the all-round expertise and experience of a genuine craft worker.
With the right experience, and working by touch alone, an expert craft worker can hone down to an accuracy of one thousandth of a millimetre.
Machine processing just can't match that level.
Of course, the better the machinery and the more money spent on it, the better the final product would be.
But that's not the route we're taking at Aizen because we believe that no matter how good or sophisticated the machine, the properly trained human hand will always achieve the better result.
There's something about a mouthpiece some mysterious Factor X that a machine will never fathom.
And that's what our craft workers give to the Aizen mouthpiece.
Crafted with the Player in Our Minds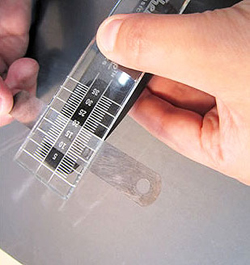 It's no easy task to finish each piece one by one to perfection, until we're truly and completely satisfied with the result.
We've made a long journey of discovery day by day at Aizen learning what makes a piece even more resonant, even more playable.
Always building further on our knowledge and experience as we go, we never stop trying to create an even better Aizen mouthpiece.
Even if a piece takes far longer to finish than we expected, our stance is that we're never going to compromise an inch on quality, and we're never going to stop demanding more of ourselves.
We always work with one image in our minds the sight of a player blowing on one of our pieces, delighted with the sound they're getting.
Aizen's Motto
At Aizen we have a motto, and we stick by it with no ifs and no buts:
"We're absolutely satisfied with it, or we're absolutely not going to sell it."
We check our pieces every step of the way, and if it's not 100% perfect it won't survive.
We reckon you'll notice the difference with an Aizen piece perfect playability no matter how hard you blow, and great tone no matter who's doing the playing.
We're constantly on a mission to polish our techniques and never stop refining them, to create a piece that offers comfort and ease of play.
That's because at Aizen, we're always on the player's side.
Mouthpiece production flow
Aizen Mouthpieces: Dependable high precision with a meticulous hand-finished touch
At Aizen, we make our mouthpieces with absolute and dedicated precision, with a meticulous hand-finished touch. Our process creates completely reliable, uniform pieces of the very highest quality.
While we can't give away all the details, let's take a look at the Aizen manufacturing process
Step 1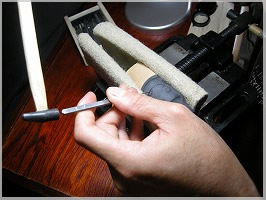 To hold it steady when being engraved, the mouthpiece is firmly fixed to a support surface. The engraving tool has a point of 0.5mm, but the carved line is 0.3mm in width.
Step 2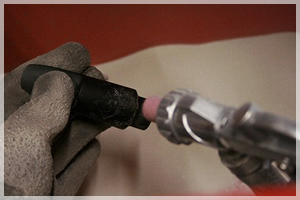 After the hand-craft work is finished, Aizen mouthpieces are sandblasted and each one is given a uniform matt finish, creating a sophisticated look. At the same time, this process improves the harmonics and gives a richer sound quality.
Step 3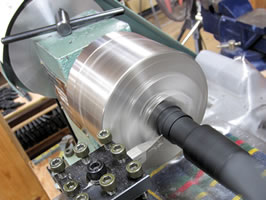 Next, the shank is shaped using a lathe. When the shank is at the ideal length, the sound can be controlled to the maximum degree.
Step 4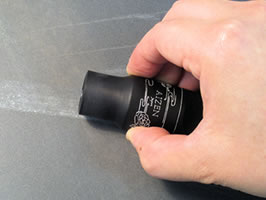 Using a specially-developed process, the table of each mouthpiece is filed to make it perfectly flat. When the table is horizontal, the air flow is at its best. At this point, the facing is also shaped to just the right length.
Step 5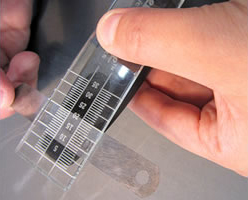 A very slight depression is hand-crafted into the center of the table. This keeps air flow resistance to a minimum, and also gives a richer, more harmonic sound. Using a special technique, we check that the facing curve is precisely symmetrical in each mouthpiece.
Step 6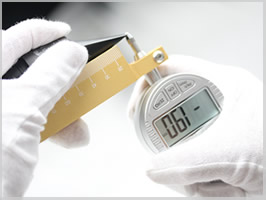 Vintage mouthpieces tend to be different from each other even if they're the same make and model. But at Aizen, we've added modern computer technology to traditional hand-finishing skills. This means that we can keep variations to the absolute minimum.That's right. No Worries. It's an Aizen.The production process at Aizen takes such time and labor that, to guarantee the highest possible product quality, our current output is limited to five saxophone mouthpieces per day.
Saxophone production flow
Step 1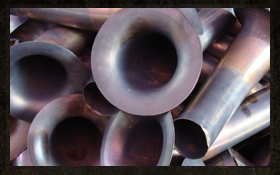 Today, most saxophone makers shape the sax body by machine. Not Aizen. We handcraft our sax bodies with wooden mallets, in a traditional hand-hammering process.
Step 2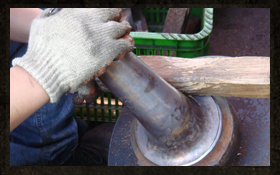 Metal hammers damage the sax metal and have a negative impact on the sound, so we only work with wooden mallets. This gives us a richer and more reverberating sound, with less resistance. The hand-crafted body is harder and more durable than a machine-made product. The bell, body and u-bend are all made using the hand-hammering process.
Step 3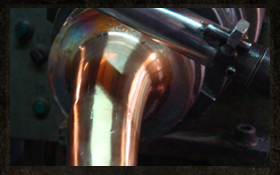 The parts are now finally finished by hand-hammering.
Step 4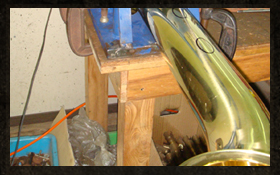 Before drawing out the tone holes, openings are created in the body. Each tone hole is mechanically checked and adjusted to make sure that the sound will be right.
Step 5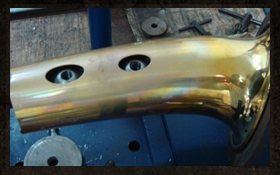 The tone holes are now drawn out. The templates are double-checked, and the machine is polished every time a sax body is passed through. We also polish each and every sax body each and every time inside and out. In this way, we end up with perfect tone holes and no scratches on the body interior.
Step 6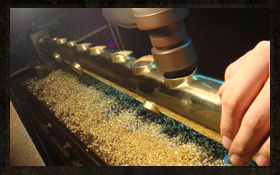 The tone holes are polished to make the rims perfectly smooth and even. Unevenness can cause a lot of problems later, such as damage to the tamp pad, etc.
Step 7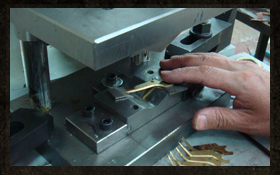 Next, we make the key parts. All Aizen key parts are molded and pressed, making sturdy, durable keys. This allows.Kcy adjustments of saxophones laast etc.
Step 8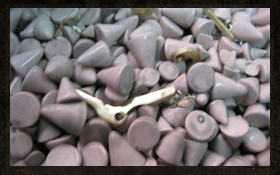 The keys are polished using a specialized apparatus. They're very carefully surface-polished in order to make even the finest parts smooth. This polishing process is where the Aizen saxophone's outstanding beauty comes from.
Step 9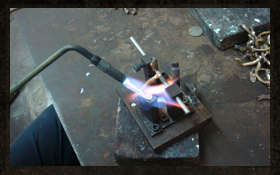 The key posts are now blazed with silver solder. This is a vital step in the process, and it takes a lot of care and experienced craftsmanship. The keys are worked on over and over, until they are fully uniform in appearance.
Step 10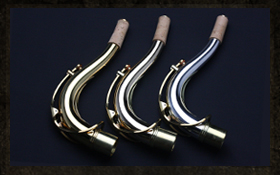 Now we craft the neck. Pitch, tone, resistance and feel are all influenced by the slightest variation of angle. Our experienced craft workers have to focus one hundred percent to handcraft the neck in just the right shape, at just the right angle.
Step 11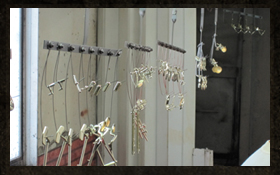 After the tone holes are formed, they are cleaned with a chemical detergent. Then they are buffed smooth, cleaned out with a compressed air jet, and lacquered. After lacquering, they are once again polished to a smooth finish.
Step 12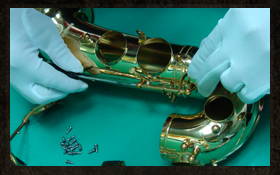 At this point the parts are assembled. All key posts are electronically measured to make sure that even the smallest parts are correctly aligned and positioned. This is another step in the process that requires great skill and experience.
Step 13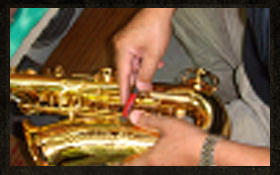 Now the saxophone is skillfully hand-engraved by experienced craft professionals. Once started, the engraving has to be done through to the end without a single mistake. So, absolute concentration is called for here, too.
Step 14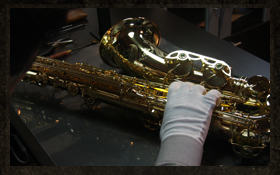 The overall balance is now checked, and the tamp pads are added. Balance is checked by highly skilled professionals, and the tamp keys are made as even as possible for a soft key touch. Your Aizen is now ready for shipping and ready for playing as soon as you take it out of the box.
What is ideal mouthpiece?
Perfect timbre and ease of control
The most important factor governing timbre and control is using good material and having right mouthpiece design with precise finish.
Over the years, we've learned that no matter how good the finish is, if the materials aren't top-quality, you won't get the sound you want. And vice versa, even if the materials are perfect, you still won't get that sound if the design and finish quality isn't just right.
In this way, the Aizen Mouthpiece was developed through a long period of trial and error, which finally led us to the ideal combination and materials and design.
So here at Aizen, we're equally uncompromising about the accuracy of our crafting and the materials we use for our pieces. And by that, we mean we're completely uncompromising.
Pleasing sound quality, for both player and listener
Good timbre and consistent sound quality are crucial for saxophonists. However good the phrasing is, however great the song, the playing won't hit home to the audience if these factors aren't right.
In mouthpieces, timbre and sound quality depend on the balance between baffle and facing.
High-quality vintage mouthpieces (each costing US$1,000 and over) display an exquisite balance of baffle and facing, along with meticulously fine craftsmanship. And Aizen has perfectly re-created the vintage mouthpiece structure, making possible a rich, reverberating sound – just like an original vintage mouthpiece.
Ease of volume control and sound expression
The saxophone's greatest appeal as an instrument is the way that it lets players express themselves through subtle variations in volume and tone. In the proper hands, the saxophone takes on the full expressive power of the human voice in song.
But no matter how talented players may be, they can never realize their full musical potential if the mouthpiece doesn't play its part just right. Aizen's painstaking research on materials and structure has produced a mouthpiece that lets players of all skill levels really give of their best.
Using an Aizen mouthpiece, payers find it easy to control their volume output by varying their breath production. So, players can express themselves musically to the highest degree.
Smooth breath flow promotes playing accuracy
With some mouthpieces, keeping in tune is no easy task. This is usually because the facing has been designed with an unnatural curve.
Under concert or recording conditions, saxophonists have to pay attention to a lot of things simultaneously – finger placement, tone, phrasing, rhythm, and so on.
Performing players should be able to concentrate entirely on these aspects of their art. Expecting them to use their mouth and lungs just to keep their instrument in tune is really just getting in the way of the music, and handicapping their performance.
At Aizen, we pay obsessive care to the curve of the facing when we're manufacturing our mouthpieces. So, when saxophonists use them, they can glide from top to bottom of the register, blowing smoothly without a care about the mouthpiece. We think that's one less worry – and one big step closer to an enjoyable performance for everybody.
Play for hours with ease
With some mouthpieces, the sound seems to be trapped, and the air you blow in just seems to be escaping somewhere. With some mouthpieces, it's hard to control the tuning and tone. Or it's hard to match another player's hook. Or you blow into it and get rewarded with some kind of wheezing sound…
Either this kind of mouthpiece is just plain badly designed, or the table's poorly finished. Not so with Aizen. We're extremely finicky about the details,that way, you can blow through an Aizen mouthpiece for hours without tiring or getting stressed.
High cost-performance
You buy a cheap mouthpiece. It's not a precision instrument. So, you rarely or never find satisfaction in using it. So, you start looking around for something better. So you buy another mouthpiece…
Then again, vintage mouthpieces are in high demand, but they're also very expensive. You can expect to pay hundreds of dollars at least for one, if not something over a thousand. These mouthpieces come from another age – an age of skilled hand craftsmanship.
They're popular because they're so well-made, the materials are so good, and they offer players easy control over a sound of great tonal quality.
But finding such a mouthpiece takes an awful lot of time and money, along with a well-trained eye.
At Aizen, we've picked the single best vintage mouthpiece from the cream of two thousand contenders, and our skilled craftsmen have faithfully re-created the sound.
Our production methods produce dependable product quality to the highest degree, and each mouthpiece is individually hand finished by skilled craft workers before it goes on sale.
Each and every Aizen mouthpiece offers exactly the same performance quality as a vintage mouthpiece costing a thousand dollars or more – at a fraction of the cost and with none of the trouble.
Thorough quality control
The unfortunate fact is that today's mass-produced mouthpieces mostly don't come up to scratch. The quality control staff don't have the requisite experience, and moreover the producers are often too concerned with costs to check every mouthpiece one by one with the needed care. As a result, there are inevitably big variations between individual mouthpieces.
So, the marketplace gets flooded with products of varying quality, leaving the consumer to sink or swim when it comes to making the right choice.
Our manufacturing process and combination of materials ensure that product variation is kept to an absolute minimum. Also, because our mouthpieces are individually hand finished by skilled craft workers before shipping, Aizen mouthpiece users have no cause for concern about the quality of our products.
AIZEN company location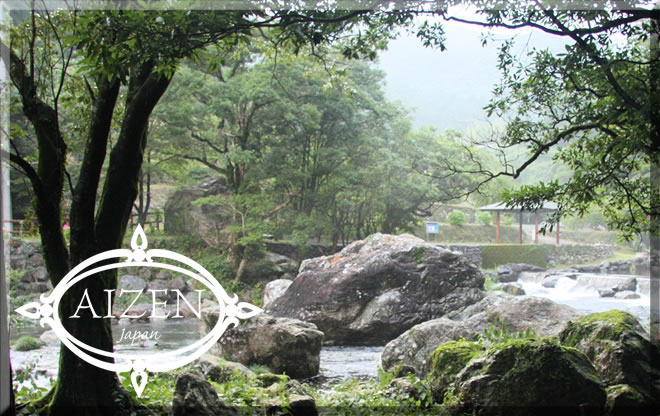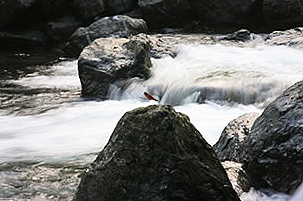 The Aizen workshop is in Tosa City, in Kochi Prefecture, Japan.
They say that the Niyodo River which flows nearby is the clearest-running river in Japan. We do our work full of a sense of thankfulness for this beautiful river, winding its way through the lush green mountains. Over the years, we've learned that no matter how good the finish is, if the materials aren't top-quality, you won't get the sound you want. And vice versa, even if the materials are perfect, you still won't get that sound if the finish isn't just right.So here at Aizen, we're equally uncompromising about the accuracy of our crafting and the materials we use for our pieces. And by that, we mean we're completely uncompromising. We aim to create the very best, and we just don't settle for anything less.