Testimonial from Yukikazu Mine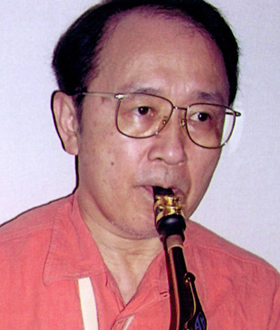 Well, I tried out my new (Aizen) mouthpiece onstage today, and tried out the embouchure in a range of different tones. I kept it pressed fairly firmly to the lips in a classic wind instrument style of play; I blew softly and I was able to play a smooth, glossy solo piece with great ease. Going on to eight beat and Latin solo pieces, I used a fat lip style of embouchure with more tonguing. With that, I got a fine, steady response right up into the high notes. I didn't have to strain to get the sound out, I could just relax and play.

I've played in full ensembles for many years, but I think amateurs (who normally can't create their own sound) will be able to achieve a whole new range of tones on this mouthpiece, trying out different styles of embouchure.

Compared with their earlier model, the current Aizen mouthpiece has better response. Again in comparison, I'm not a hundred percent sure about the richness of sound at the lower end of the register, but I can recommend this piece for ensemble situations where the alto plays the major role. You'll get the brightest tone at a 7 aperture with a Vandoren 2 1/2 reed. With a Rico Royal 2 1/2 reed, you'll get more harmonics and a slightly sharper tone.

Compared with other pieces up to now, this piece can handle both a deep, throaty style of play and lighter styles too. So, you should recommend to players that they experiment a bit, and not just approach it with their normal style of embouchure. I'm certain that every player can find their own best approach to using this piece that's how good quality it is, whatever aperture you choose. Professional players will immediately get what this piece is about, I think.


Biography

Yukikazu started playing jazz in college, and has been a professional jazz player since 1970. He spent fifteen years playing lead alto with a variety of well-known ensembles. Moving to Tokyo, he spent ten years with Kiyoshi Maekawa's backing band, and thirteen years as leader of the singer Yoshimi Tendo's band. Yukikazu is also active in the jazz scene in the Chiba area, just east of Tokyo. He is also a highly regarded teacher of saxophone and flute, among other instruments.