Testimonial from Takuji Yamada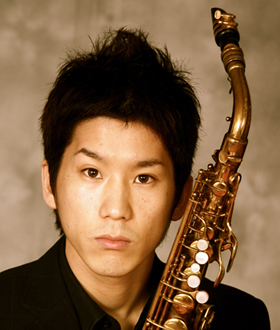 You get good airflow with all the mouthpieces in the Aizen range, they're very playable.

Of course playability's the main thing when it comes to mouthpieces, but you'd be surprised by the number of pieces out there that don't pass this basic test.

I imagine most players just muddle through, and end up getting used to playing pieces where the airflow's not so hot. So I think most players will be pretty much blown away if they try out the Aizen, and they'll really see the difference. I'd recommend it to pro players of course, but I'd especially like to see amateurs try it out, and I strongly recommend that they should give the Aizen a go.

Finding a good mouthpiece these days is no easy task. Even pros have to spend a lot of time tracking down good pieces going from shop to shop, trawling through overseas internet auction sites and what not. The number of quality vintage mouthpieces is getting smaller every year, and the prices are going up. But I think things are especially tough for the amateur players.

In my own case, I was using a 1960s NY Meyer before I came across the Aizen. The thing was, it was getting a bit run down with use, and it was getting harder and harder to play.

So, I was really impressed when I first tried out the Aizen model it was just so easy to play. And I was also pleased that my long years of mouthpiece hunting were over. So by all means, I really urge you to give the Aizen a try. You'll discover just how good it feels to play using a genuine quality mouthpiece, and just how easy it can be to play. I'd be delighted if I can share that feeling with my fellow players.

Let me just quickly go through the different models I've tried out-

・ス・スSO
Of the three different Aizen models, I get the impression that the SO has the roundest, warmest sound. A lot of players have been using the Selmer Soloist over the last few years, and if you're looking for that kind of tone along with the Soloist's playability I'd recommend the Aizen SO model first. I'd recommend this as well to people who've had experience playing a Selmer piece in wind ensembles, classical music and so forth, and who are now thinking about moving on to jazz. With the Aizen SO, I think you can make the transition smoothly.



・ス・スNY
This has the brightest sound of the three, I feel. Let's say you're playing lead alto in a big band, and you're looking for a bright, brassy tone, I'd recommend the NY model. Of course, it'll perform fine in smaller combos as well. If you're into a Phil Woods kind of bright, butterscotch tone, I'd go for this one.




・ス・スJazz Master
This is a bit darker in tone than the NY. I think it's a finely balanced piece. The lower notes are nice and fat, with a nice grainy edge to them. In the middle and higher range you get the real also sound, just like you get a warm, fat tenor coloration in the octaves further down. This is the Aizen model I like best, and I use it myself when I'm playing.




・ス・スGetting Started
All three are really excellent, but you may find that you have a problem with the reed you're using. If you do, be sure to try out a range of different reeds. You'll definitely find the combination you're looking for.

Biography

Takuji plays alto and soprano sax, along with bass clarinet. He was born in 1980 in Sapporo, and started playing alto sax at middle school. In 1980, he began courses at the Senzoku Academy in Kawasaki City, and studied saxophone and bass clarinet under Seiichi Nakamura. He entered Berklee College of Music in Massachusetts in 2002 under a scholarship program.

In 2003, Takuji was selected by Berklee to perform at New York Blue Note, and appeared on Serious Radio; these recordings found a wide listenership in American jazz circles. After graduating from Berklee, he appeared at the North Sea Jazz Festival in 2004. From there, Takuji shifted his focus to the New York scene, taking part in a wide range of sessions. He returned to Japan in 2008, and started his professional career there in earnest.

In 2009, his group the Takuji Yamada Quintet won the Grand Prix at the Yokohama Jazz Promenade Competition. For good measure, the Takuji Yamada Jazz Sextet picked up Gold Prize at the Asakusa Jazz Contest the same year. At present, Takuji is mainly active with Yoshio Suzuki's Generation Gap, as well as with UoU, which he founded while in the States.

In October 2010, UoU released the album Home on the Tippin' Records label, which topped the American Jazz Week World radio charts for two weeks. Apart from gigging, Takuji is busy helping the next generation of jazz artists as a teacher with Shimamura Music.

http://www.takujiyamada.com/toppage/top.html