Testimonial from Zoltan Albert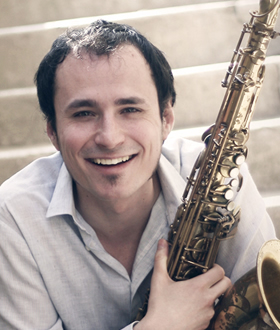 I tried the mouthpieces, and all of them are FANTASTIC, especially the alto. 🙂 This one is not specifically only for jazz, it is very suitable for pop music. Tenor gives a big and open jazz sound even so very warm, and a soprano gives me a really clear and centered sound.

There are some very good features, for example: Really easy to blow all of them(and start the notes), that is a really useful advantage. It has from a good material, with good workmanship and packaging.

Thank you!

AIZEN SSSO


AIZEN ASSO


AIZEN TSSO




Biography

My name is Zoltan Albert I am a 24 year old session-musician.I play soprano, tenor and baritone saxophones, as well as the flute.I first became involved with music at the age of 14, when I started playing drums,but then I fell in love with the saxophone and I realized that, this was my instrument.

I started to play saxophone at the age of 15 and my teacher is a reputed Hungarian sax player, Gabor Kollmann, who plays in various well-known jazz bands such as the Budapest Jazz Orchestra. As I grow older, I was mainly inspired by jazz musicians like Bob Berg, Michael Brecker, Kirk Whalum, etc. My favourite styles include jazz, smooth jazz, funk, soul and pop music, but I am always looking for ways to expand my musical vocabulary and therefore I like to challenge myself by taking up different and unexplored musical paths whenever I get the chance to do so.

Apart from playing music, I also organize concerts here in Hungary and I managed to put together many successful shows over the past few years.

Currently I play in the following professional bands: – Grover Washington Jr. Tribute Band, A tribute band playing the music of the great US saxophonist, Grover Washington Jr. – Szabo Mariann and the Groovy: This group is mainly a show band, we play various well-known hits from the 70s up until current hit songs. – Jambalaya: With this band, we play New Orleans-inspired music, with the interesting mix of music styles.