AIZEN's vision and core value
President greeting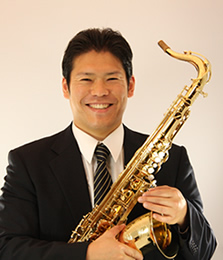 Hi. I'm Minoru Kubota, the guy running Aizen.
I was born in Kochi, in Japan.After high school I moved to Tokyo for 8 years or so, and then I came back to my hometown.My hobbies:sax (of course), reading and fishing
Me and my Sax
I still remember the day I first heard Freddie Hubbard playing. I got goose bumps all over. I was in fourth year in college at the time. I immediately wanted to play just like that ? so went out and bought myself an alto sax. But it sounded so different from the CD. I was pretty put out about it.You get the picture, of course. The late Freddie Hubbard was a trumpet player.
I can look back and laugh about it now. But back then, there I was with a sax on my hands and not a clue in my head. No trumpet. I had a sax at any rate, so I had a go at trying to play it.
The next year I got myself a job, and the salary came with a bonus every so often. When I got my first one, I bought myself a tenor sax. That's when I first started to get clued in to just how fantastic and complex an instrument the sax actually is. So I started playing every day. Ever since then, the sax has been my life. I don't think that's overstating it.
After that, I started taking lessons from pro players around Tokyo. I was still working as well at the time. I started getting more and more into vintage saxes and mouthpieces. I did a lot of reading up and looking around. More than half the money I was making at work went down the spout, so to speak, into my sax collection. As well as that, I was listening to a lot of players on CD and going to pro session musicians' gigs around town. To get more clued in, I fished through a lot of players' autobiographies ? Sadao Watanabe, Malta, Billie Holiday…
So there I was. In career terms, music was still very much a hobby for me. Anyway, one day I was on a plane on a business trip to Australia, when I chanced to meet an American woman who really changed my mind about things. She was fascinating and free-spirited. There was no way she'd be a cog in anyone's machine. And I started thinking to myself, "Well, why don't I live like that? Why don't I do what I really want to do in life?" I had no money to my name, but decided then and there: I'm going to sell instruments for a living.
So I cut my teeth at the NAMM show in California, and got things on the road. I was mainly doing catalog sales and trade fairs. I had such a great time and terrific memories, spending time with sax players all over Japan. I'm so grateful to everybody for the experience.
So, my main sales focus was on saxes, and I kept on coming up against the same kind of questions:
"Why can't overseas makers put out better products than they did a few decades ago?"
"Is it possible to re-create the finest-quality saxes and mouthpieces with today's technology?"
That was the start of an obsession for me. I went all around the world, checking up on every possible way you could to make great saxophones and mouthpieces. Then I set up my own outfit ? Aizen ? and after years of trial and error we were finally ready to show the world what we've got.
Getting to this point is entirely thanks to the customers who've supported us right down the line. I want to thank them all from the bottom of my heart.
Our mission at Aizen is to put out world-class products and spread the gospel of music just as far and as wide as we can.
Minoru Kubota, CEO, Aizen
Our Vision: Spreading Waves of Music and Joy
Music has enriched our lives for many thousands of years. At Aizen, we want to give the joy of music to as many people as we can. We want to enrich as many lives as we can through music. We want music to spread waves of peace and joy all over the world.
Just one tiny drop of water has the power to create waves that reach the edges of a pond. The droplet is small and quiet, but it produces its own unique pattern of waves. Aizen is small and quiet, too, and we are creating waves.
Our way of making waves is by producing high-quality musical instruments. Our way of making waves is by bringing the joy of music to all our customers.
Like a drop of water falling into a pool and spreading out a rippling wave,
Aizen spreads out rippling waves of music and joy all over the world.
Our Core Value: User oriented development and top-notch quality products
We pursue highest quality

We pursue to produce top notch quality products for saxophone players, we make the world aware of Made In Japan quality.

User oriented product development

We always stand in the eye of sax players to develop our products.
Profile&Map
| | |
| --- | --- |
| Company name | Projection Co., Ltd. |
| President | Minoru Kubota |
| Business activity | Musical instrument manufacture/Sale |
| Address | Otsu 154, Takaoka-cho, Tosa, Kochi, Japan 7811102 |
| TEL/FAX | Tel:+81-88-852-7383/Fax:+81-88-813-0135 |
| Main bank | Shikoku bank |