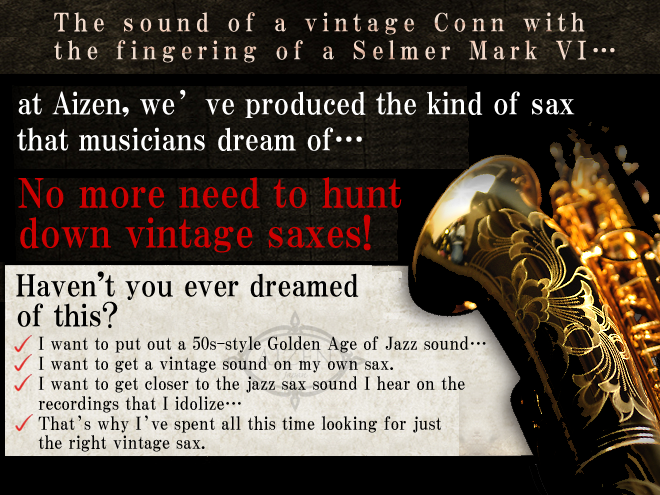 If you're a sax player who wants to achieve that ideal sound, keep reading! First, let's take a look at some testimonials from satisfied Aizen customers –
Customer Testimonials
Just two hours is plenty enough to feel the difference.
This is such a well-made sax it's a very impressive thing to see, the Aizen.
The engraving on the bell is so well done I don't know how they did it. I just love it.
The sound was softer than my last sax, and there was a certain thickness to it.
I practiced only two hours today. But just two hours is plenty enough to feel the difference.
I feel if I keep on going at this pace my playing's going to really take off. So, I'm really eager to get some time in on my Aizen every single day.
I'm so grateful to Minoru and the gang at Aizen for giving me the chance to play this fantastic sax.
I really foresee great things for Aizen in the future, and I'm sure they'll keep putting out great stuff and gathering many more fans as they go.

(Mr.Sato Sax experience: 7 years Plays: Aizen Alto Sax (Professional Model), soldered tone hole rings)
Why are vintage saxophones such a hot item?
The saxophone was dreamed up right back in the 1840s by the Belgian wind instrument maker Adolphe Sax. The sax really came into its own with American swing jazz in the 1930s, becoming a mainstay of many genres. With its softness, strength and flexibility of tone it's especially considered the flower of jazz instruments.
As the home of jazz, America produced most of the manufacturers who specialized in jazz saxophones. Their creations had all the strength and individual flair of the genre itself. Selmer, Conn, King, Martin, Buescher are among the names that have gone down in history, along with the masterpieces they made.
These instruments were made for jazz, and the way they were handles produced a sound completely different from classical-music saxes. Under the name "American sax", they were cherished by the many jazz musicians who played them.
Until the Selmer Mark VI came along in 1954, Conn was the leading outfit in the field. Their saxes saw use by a host of legendary players. Selmer instruments eventually took the lead thanks to their better playability, but even today there are plenty of players who'd never part with their Conn. What makes the Conn so special is its round, throaty tone in the middle and lower end of the register. The finest Conns crop are the Alto 6M and Tenor 10M.
Sure, the Selmer may have better key action, but it's the sound…it's the way that rich, warm, special Conn sound envelops you that always keeps the cognoscenti coming back for more.
The sax has a fairly short history as an instrument, under 200 years. But in that time it's evolved a lot in terms of ease of play, better tone and more accurate control.
And yet, with new makers coming on-stream all the time, why is it that saxes from 50 years ago still appeal to players like no others? That's because it's next to impossible for today's sax makers to reproduce that special, unforgettable Golden Age of Jazz sound.
The saxophone is an extremely intricate mechanism which produces sound in a very particular way. So, a whole host of factors go into the making of that full-blown Golden Age of Jazz sound. There's the various mechanisms of the vintage saxes themselves, all of them different and special. Then there are variations in the materials and how they age over time. Players search heaven and earth for these precious vintage instruments and the vintage mouthpieces that match them. They've always changed hands at high prices, and there's no doubt they'll go on commanding considerable sums of money well into the future.
Which is a problem for the rest of us who love the sax, and I'm one of them. "Isn't there any way we could recreate that vintage sound," I thought to myself, "using modern technology?"
Finally, AIZEN made saxophonist's dream come true!
Our saxophones are born from the great "American" vintage saxes of the past, with Conn first and foremost.
Of them all, it's the Conn that has that all-enveloping, rich, warm, sound all of its own that make it such a firm favorite among the players. Today's saxophones are mass-produced objects, because more and more people are taking up the sax. The trend is away from sound quality and toward playability, control and articulation.
But however hard today's mass-manufacturers have tried, even after decades they still haven't managed to achieve that vintage jazz sax sound that so many players love. So, at Aizen, we decided to take the plunge and design a sax that can satisfy that need and recreate that lost sound. We took the unsurpassed Conn "Naked Lady" as the model for the sound we wanted. And for the key mechanism, we took the daddy of them all, the Selmer Mark VI. Taking the best of both, we put them together to create something really special.
Our first challenge: playability
We took playability as the first hurdle we had to jump if we wanted to get it right. Working off the Selmer Mark VI as our base, we took the table keys, Low C and Db keys and designed their placement just right in terms of spacing, angle and distance. And then the springs. These are vital in getting the right feeling off the keys when you touch them, and for good speed of phrasing. We used top-quality Italian chrome springs only, to reproduce the "feather touch" of the Mark VI.
Our second challenge: tone
Our second major hurdle was getting the tone right. There are a multitude of factors involved – the composition of the metals making up the body, the positioning of the tone holes, how the pads make contact, the angle and width of the neck…We tried out all kinds of things to reproduce the unique sound of a vintage Conn sax.
Working on what we learned, we chose a Japanese yellow brass as the material for the body. For the tone holes, we designed the usual straight tone holes and soldered tone-hole ring models. Soldered tone-hole rings are the method used in high-end European saxes as well. The method –physically welding rings onto the edges of the tone holes –takes an awful lot of work. But it makes for a tight seal with the pads, and creates a rich, mellow tone.
Tone holes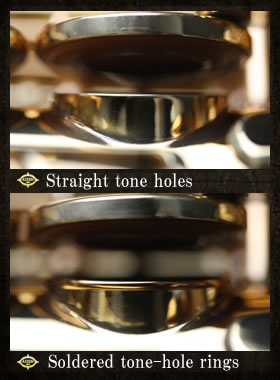 Aizen saxophones come with two different types of tone holes
(Alto Saxophone, Tenor saxophone only).
1. Straight tone holes
The inspiration comes from the sound of the Mark VI. The fun stuff here is that the sound response is rapid, it's fairly bright, and the tone expression is sharp and crisp.
2. Soldered tone-hole rings
The inspiration here comes from the sound of the Conn. The special thing about this approach is the warm, round, broad tone it creates.
The single most special point of an Aizen sax is the neck
And the single most special point of the Aizen saxophone is…the neck. Most players are aware of how important the neck is, so recently you get lots of people putting vintage necks on modern saxes, or using differing materials for the neck only and so forth.
The Aizen neck is the result of laborious research on everything from the curve of the neck to the angle, the width, even the coefficient of sectional form…For the Fuga, which is a new model, we looked even more closely at the taper and curve – and we got a richer, broader, more resonant tone as a result. This neck is built to get the absolute best out of an Aizen sax, and we put all we had into designing it.
For the player looking for a fatter sound and deeper resonance, we recommend the Sterling Silver (92.5% pure silver).And for the player looking for a warmer, mellower tone we recommend the Copper Neck option (85% copper content).
(Aizen Fuga Alto and Tenor models only)
Aizen Saxophone Necks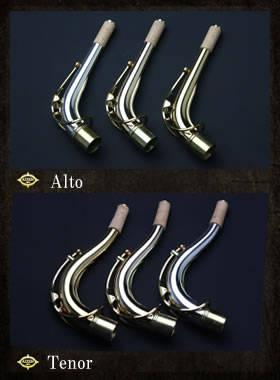 Aizen saxophones are made with three different types of neck:
1.Brass saxophone neck
This is the standard Aizen saxophone neck.
2.Sterling Silver saxophone neck
Compared to the brass sax neck, this gives a rounder, more powerful sound, and great resonance. The tone is also a bit brighter.
3.Copper saxophone neck
Compared to the brass sax neck, this gives a softer, warmer sound. The tone is darker.
Aizen saxes are not replicas of vintage saxes.
Aizen saxes are not mere replicas of vintage saxes. Unlike a number of major manufacturers, we have no interest at all in making cheap, knock-off copies of classic vintage saxes.
Instead, we've thoroughly researched ways to create saxes that keep the best of modern sax design – accuracy and control – while getting the sound of a vintage sax. We've tried and tested time after time, training the most outstanding craftspeople in our process on the way. It took us four long years to get there.
The Aizen is a sax developed for, by and with the players.
That's why we've managed to create an instrument that takes us back to the great days of vintage saxophones. The Aizen will release the unique sound that's bottled up inside you, and become one with you. It's designed with you in mind, and that's what it's there for.
The vintage sax. The more the player played on it, the more their sound developed. Until they were 'there'. Until they were 'through'.
The Aizen's designed to allow for this same process. You play it, you get a sound – a good sound, of course. Then, as you keep playing it over time, you form a relationship with it, with the keys and how they feel. As the bond deepens, your own unique sound emerges and grows stronger.
Over time, every sax player develops their own distinct sound, as individual as you are. Isn't that exactly what we mean when we say that the saxophone's a joy to discover? Isn't that what Charlie Parker achieved on his vintage Conn? Isn't that what the maestros of alto sax who followed him wanted for themselves? In the back of their minds, they were chasing that sound – an all-enveloping, powerful wraparound sound…
Then there's Dexter Gordon and Gene Ammons, masters of the Conn tenor sax. There it is, the Conn Sound – that enthralling, fat-as-a-whale, mid-range-to-low Conn sound.
We made prototype after prototype. Finally and at long last we've come up with something that even we are satisfied with. Play the Aizen sax with the Aizen mouthpiece, and experience the thrill of creating your very own unique sound. It's like a dream come true.
Saxophone production flow
Step 1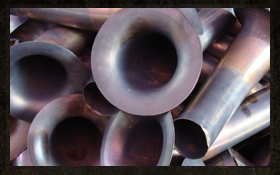 Today, most saxophone makers shape the sax body by machine. Not Aizen. We handcraft our sax bodies with wooden mallets, in a traditional hand-hammering process.
Step 2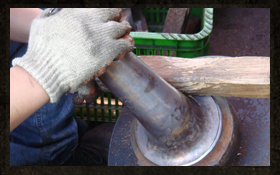 Metal hammers damage the sax metal and have a negative impact on the sound, so we only work with wooden mallets. This gives us a richer and more reverberating sound, with less resistance. The hand-crafted body is harder and more durable than a machine-made product. The bell, body and u-bend are all made using the hand-hammering process.
Step 3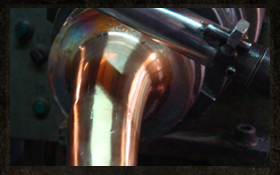 The parts are now finally finished by hand-hammering.
Step 4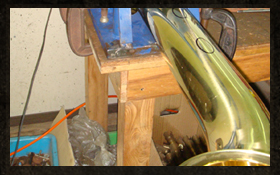 Before drawing out the tone holes, openings are created in the body. Each tone hole is mechanically checked and adjusted to make sure that the sound will be right.
Step 5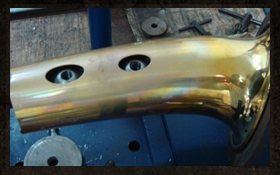 The tone holes are now drawn out. The templates are double-checked, and the machine is polished every time a sax body is passed through. We also polish each and every sax body each and every time inside and out. In this way, we end up with perfect tone holes and no scratches on the body interior.
Step 6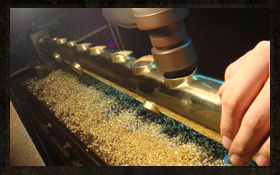 The tone holes are polished to make the rims perfectly smooth and even. Unevenness can cause a lot of problems later, such as damage to the tamp pad, etc.
Step 7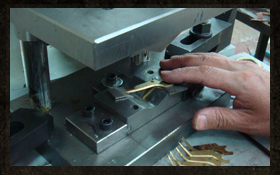 Next, we make the key parts. All Aizen key parts are molded and pressed, making sturdy, durable keys. This allows.Kcy adjustments of saxophones laast etc.
Step 8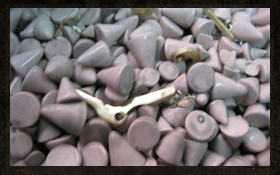 The keys are polished using a specialized apparatus. They're very carefully surface-polished in order to make even the finest parts smooth. This polishing process is where the Aizen saxophone's outstanding beauty comes from.
Step 9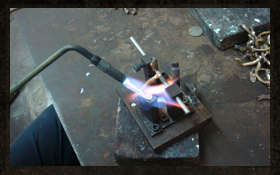 The key posts are now blazed with silver solder. This is a vital step in the process, and it takes a lot of care and experienced craftsmanship. The keys are worked on over and over, until they are fully uniform in appearance.
Step 10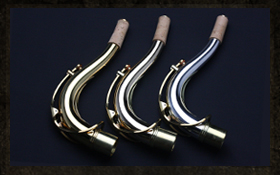 Now we craft the neck. Pitch, tone, resistance and feel are all influenced by the slightest variation of angle. Our experienced craft workers have to focus one hundred percent to handcraft the neck in just the right shape, at just the right angle.
Step 11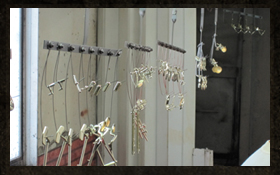 After the tone holes are formed, they are cleaned with a chemical detergent. Then they are buffed smooth, cleaned out with a compressed air jet, and lacquered. After lacquering, they are once again polished to a smooth finish.
Step 12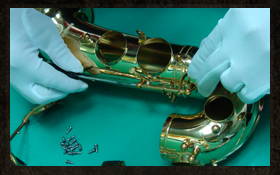 At this point the parts are assembled. All key posts are electronically measured to make sure that even the smallest parts are correctly aligned and positioned. This is another step in the process that requires great skill and experience.
Step 13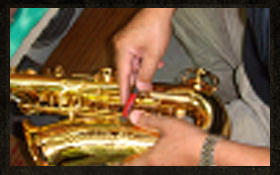 Now the saxophone is skillfully hand-engraved by experienced craft professionals. Once started, the engraving has to be done through to the end without a single mistake. So, absolute concentration is called for here, too.
Step 14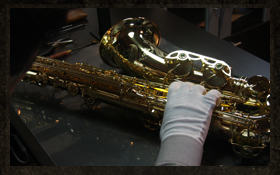 The overall balance is now checked, and the tamp pads are added. Balance is checked by highly skilled professionals, and the tamp keys are made as even as possible for a soft key touch. Your Aizen is now ready for shipping and ready for playing as soon as you take it out of the box.
Why do we sell our saxes as such affordable prices?
At Aizen, we know our saxes. We've seen thousands, and we know what they cost. A good-quality sax? 6,000 dollars give or take. That's at the very least, and you won't really get much worthwhile for less than that. Vintage saxes often go for 10,000 dollars and more. So why do we sell ours so cheap? There's a reason for our madness.
When we started off playing ourselves, we wanted good-quality saxes that could put out a decent sound – vintage American saxes, high-end European pieces. The problem was, there was no way on earth we could afford them then. So we had to cut our teeth on crappy Chinese saxes. Uuurgh…
However hard we practiced, we just couldn't get clear articulation out of them. The only tone these things produced was an off-centered, straggling wisp of a thing. And the keys stuck. Torture devices. You'd get rid of them before a year was out. Finally, you get your hands on a vintage Mark VI and try it out. Jaw, meet floor. That was me, anyway. My playing just took off. It was like the nightmare had never happened.
But paying for such a high-class instrument meant taking out a loan, and skipping meals month after moth to pay it back. I somehow managed, but these were lean, mean times.
That makes me a bit of a fanatic about getting our prices down. I know there are people out there like me, people who want the sound and will starve themselves like I did to get it. I feel for them, and I'm looking out for them.
I set up Aizen out of my burning love for the saxophone. I play sax live at gigs. I can't tell you what it means to me to play a newly released Aizen sax onstage. But I know that my fellow players will understand when I say that my heart pounds in my chest.
There you are. Trawling around all over for a vintage sax that isn't going to break the bank.
On the verge of giving up altogether because you've decided you just can't blow.
Putting up with a cheap piece of crap every single day.
You're the one we want to reach out to. Think of us as an emergency rescue team, ferrying good-quality saxes at affordable process. We're just overjoyed when players get where we're coming from and try what we've got.
No more need to hunt down vintage saxes!
This piece is real gem, recreating the warm, rock-steady sound of the Conn, along with the "feather touch" handling of the Selmer Mark VI
AIZEN FUGA Professional saxophones
The rock-steady sound of the Conn, and yet the "feather touch" handling of the Selmer Mark VI we've brought them together in this instrument that we're proud to call our own. Combining yesterday's vintage sound with today's control and playability, this is a model to make any musician's dreams come true…
The Aizen Fuga Alto Saxophone with lacquer finish
The Aizen Fuga Alto Saxophone with antique finish
The Aizen Fuga Alto Saxophone with satin silver finish
The Aizen Fuga Tenor Saxophone with lacquer finish
The Aizen Fuga Tenor Saxophone with antique finish
The Aizen Fuga Soprano Saxophone with lacquer finish
The Aizen Fuga Baritone Saxophone with lacquer finish
Comments from the pro alto sax player Takuji Yamada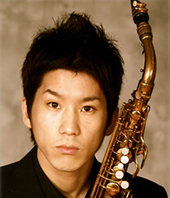 Everybody knows that when it comes to the sax, the Big Three are Yamaha, Yanagizawa and Selmer. They've got long track records, and each of them puts everything they know into their products. Each maker's saxes have their own style. In recent years, a lot of smaller players have come on the scene, developing a whole range of new saxophones. What I'm here to tell you is that one of them stands out head and shoulders above the rest.
The name of this manufacturer is Aizen. I play an Aizen alto sax. The first time I picked it up I thought it was a really compact piece of work. I remember how the keys seemed to fit my hand like second nature. With saxes today, you often get palm keys that are too big I think, and that puts stress on your right hand when you're playing high notes or doing rapid phrasing. But there was none of that with the Aizen – it's exceptionally easy to play.
And the response when you hit the buttons is fantastic. The springs are something else. It's surprising how often we forget about this point, but when you're choosing an instrument the springs are such an important part of the mix.
And when I put this piece of work to my head, I forgot everything I knew about modern-day saxes. First up, it blows. Now, when I say it blows, you might have the impression that I'm talking about excitement and fatness of sound, but that's not exactly what I mean. I'm thinking about how I got such an even resonance from high to low, right through from a soft mezzo-piano to a full-on fortissimo. Especially going from pianissimo to fortissimo, the warmth of tone I got when playing at a loud volume felt so comfortable. The thing I love most about the Aizen is the way you feel it's just swallowing up your breath. Breath control is truly easy. It feels fantastic when you're practicing long tones. And it works like a teacher. It's like it's talking to you –"Blow this way, you'll get the sound out easier". The instrument itself teaches you how to play it right. It always gets you relaxed, guides you so as not to waste your breath. You can just feel the confidence welling up inside you. It's like –"I'm on a roll here".
Another thing about the Aizen is its sterling silver neck. I was just blown away by it. It feels different. Unlike with a brass neck, you just blow a bit and out comes this big fat sound, warm, with a very loyal resonance. It makes the instrument easier to control. Of course a brass neck is fine and all, but try the silver and you won't ever go back.
Like I said, the keys are positioned to fit in the hand so naturally. Fast passages are easy to play, and you'll really understand the control this instrument has when you practice scales. And with some saxes, the left-hand little-finger keys are hard to control. No stress with the Aizen, though.
In the six months I've been playing my Aizen, the resonance has developed. I think this instrument is going to keep on evolving. With some saxes, it's like the tone's been set to default from the word go, and it sounds the same no matter who plays it. But with the Aizen, you can have fun developing your own tone.
If you fit an Aizen mouthpiece on it, then things really take off. I think this range of saxes push the player upward in skill level. Above all, it's fun. You realize it's fun to play sax. I can recommend the Aizen range to players at all levels from beginner to pro.
Takuji Yamada
Born in 1980 in Sapporo, Japan Started playing alto sax in middle school. Started studying music at Senzoku Gakuen Junior College in 1998, practicing saxophone and bass clarinet under Seiichi Nakamura. Went to Berklee College of Music on a scholarship from Berklee in 2002. As well as performing live, Takuji is active as an instructor for Shimamura Music, and is putting his energies into fostering the next generation of outstanding musicians.
Performance by Cleave E Guyton Jr
Aizen saxophone accessories
Our carry-case combines style and functionality; choose from our options for tone holes and necks.
Aizen lightweight leather carry-case (for Alto, Tenor and Soprano)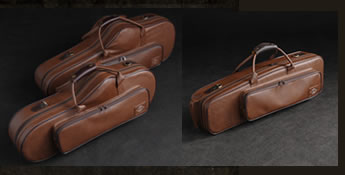 As well as protecting your instrument of course, we've put a lot of thought into making it easy to carry, easy to open and close, and keeping it tough and durable. This leather carry-case combines style and functionality.
Aizen lightweight carry-case with casters (for Baritone)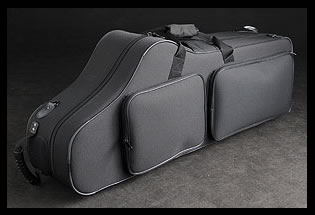 This is a lightweight carry-case with casters attached for easy portability. There's a total of three handles set at two places, so it can be easily moved on its side or upright. There are two side pockets which can hold lots of accessories.
Tone holes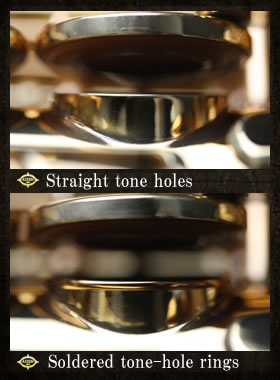 Aizen saxes come with two options for tone holes.
1. Straight tone holes
The inspiration comes from the sound of the Mark VI. The fun stuff here is that the sound response is rapid, it's fairly bright, and the tone expression is sharp and crisp.
2. Soldered tone-hole rings
The inspiration here comes from the sound of the Conn. The special thing about this approach is the warm, round, broad tone it creates.
Aizen Saxophone Necks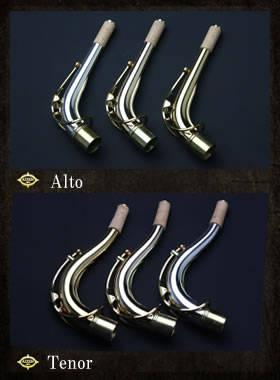 Aizen saxophones are made with three different types of neck:
1.Brass saxophone neck
This is the standard Aizen saxophone neck.
2.Sterling Silver saxophone neck
Compared to the brass sax neck, this gives a rounder, more powerful sound, and great resonance. The tone is also a bit brighter.
3.Copper saxophone neck
Compared to the brass sax neck, this gives a softer, warmer sound. The tone is darker.
Aizen saxophones come in a variety of finishes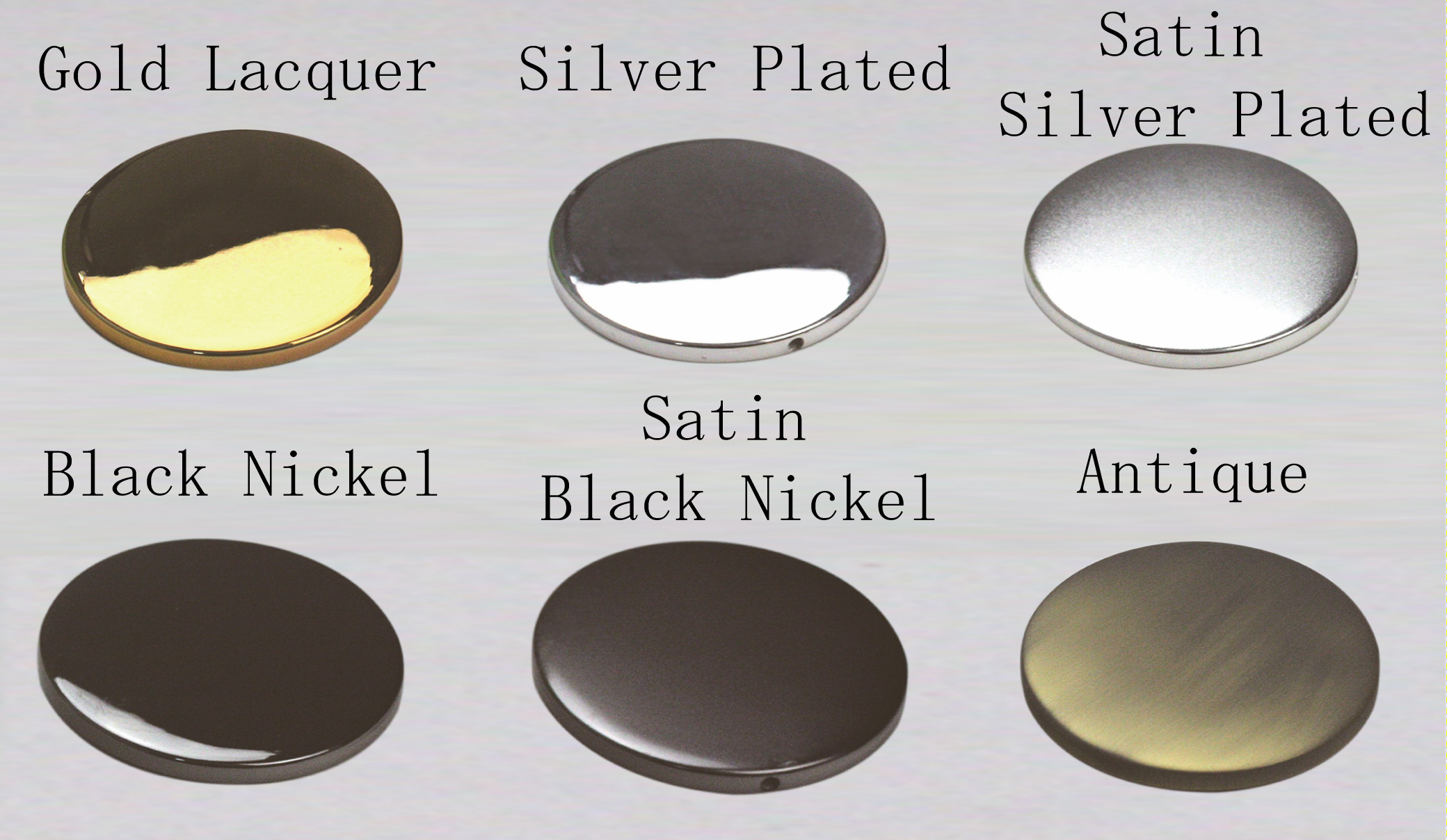 The most popular finish on Aizen Fuga Professional Model Saxophones is the standard Gold Lacquer finish, but we can provide a range of finishes depending on what you want, made to order.
As the photo shows, besides Gold Lacquer, you can choose from Satin Silver Plate, Black Enamel, Black Nickel, Satin Black Nickel, and Antique.
The finish may have an influence on the tone the instrument produces, and prices vary. Each finish has its own characteristics, so please feel free to ask us about them in detail.
We can also do unique hand-carved decorations just for you.
Aizen Professional Model Saxophones come with a luxurious floral engraving as standard, but we can also do engravings to your order.
Prices may vary depending on the type of engraving ordered, so please feel free to ask us about the details.
Here's an example of a customer-ordered engraving:
At Aizen, we normally use brass for our saxes, as is standard practice in the industry. But we can also produce instruments in nickel silver, silver and copper, etc. to order. You can enjoy a different tone from the standard brass model. Please feel free to ask us about the details.
After-sales service
At Aizen, we want you to enjoy playing your instrument for years and years to come. That's why we put so much effort into our after-sales service.
Spare parts
Stuff happens. Instruments get dropped – bodies, keys and other parts get broken. At Aizen, we'll do all we can to help out. We keep a wide range of spare parts in stock. Please get in touch with us right away for an estimate.
Accessories for you
High-quality Aizen leather case
Any one of our range of Aizen mouthpieces
Aizen leather neck strap
Reed x 1
Cloth for cleaning neck and body
Our passion
Aizen saxes are handmade in a long, painstaking process. We are 100% committed to producing instruments of the very highest quality. That's why we can only put out a small number every month. Because of the limited numbers we make, you may have to wait some time for delivery of your order. If that's a problem, please get your order in as soon as you can, thank you.
P.S.
Our people give everything they've got to please you. We want you to enjoy –
The most fantastic sound you've ever made
The thrill of getting real control over your sound
The pleasure of becoming one with your sax
Where else can you get this kind of experience? For decades, players have had to get their hands on rare vintage saxes. Expensive, rare vintage saxes.
An Aizen saxophone offers you all this at a price that you can afford.
And when our customers get in touch with us and tell us how well they're doing, then we know that it's all been worth it. Wherever they may come from, these people are our people. Saxophone people.
And we shall breed more! …is our nefarious plan for humanity. We want players to come back to the sax as well, going "Oh my God! This is such fun!"
Who in their right minds but us would even try to do what we're doing? It's all for us players. The saxophone crazies. Our people.
Minoru Kubota, CEO, Aizen
The Aizen Fuga
Alto Saxophone (Professional Model)
The Aizen Fuga
Tenor Saxophone (Professional Model)




• Eb Alto saxophone
• With high F# key (also available without)
• Body&Keys in yellow brass (other materials available)
• Standard finish: Gold Lacquer (six other finishes available)
• Hand-carved engraving (customized engraving option available)
• Standard drwan tone holes (soldered tone-hole ring option also available)
• Aizen leather carry-case
• Aizen mouthpiece (choice of model and type)
• Accessories (full set)




• Bb Tenor saxophone
• With high F# key (also available without)
• Body&Keys in yellow brass (other materials available)
• Standard finish: Gold Lacquer (six other finishes available)
• Hand-carved engraving (customized engraving option available)
• Standard drawn tone holes (soldered tone-hole ring option also available)
• Aizen leather carry-case
• Aizen mouthpiece (choice of model and type)
• Accessories (full set)


The Aizen Fuga
Soprano Saxophone (Professional Model)
The Aizen Fuga
Baritone Saxophone (Professional Model)




• Bb Soprano saxophone • With high F# key (also available without)
• Body&Keys in yellow brass (other materials available)
• Standard finish: Gold Lacquer (five other finishes available)
• Hand-carved engraving (customized engraving option available)
• Standard drawn tone holes
• Aizen leather carry-case
• Aizen mouthpiece (choice of model and type)
• Accessories (full set)





• Eb Baritone saxophone
• With high F# key and low A key
• Body&Keys in yellow brass (other materials available)
• Standard finish: Gold Lacquer (five other finishes available)
• Hand-carved engraving (customized engraving option available)
• Standard drawn tone holes (soldered tone-hole ring option also available)
• Aizen lightweight carry-case, with casters
• Aizen mouthpiece (choice of model and type)
• Accessories (full set)